Lighting is no longer just a type of accessory in home environments. Some people often refer to lighting as the fourth dimension of home decoration. As an expert in the field of LED lighting, what are the differences between the latest Loox5 lighting system launched by Germany's Haffler and previous generations of products and common lighting systems from other brands on the market? What role can it play in your home environment? What additional services can Haifu Le provide for the lighting system? Today, I will write an article to explain it clearly.
Loox5
L o o x l i g h t i n g
Lighting system for furniture and rooms
Loox5 is independently developed and produced by the factory in Stuttgart, Germany. It is not only an upgrade of previous generations of products, but also a revolutionary innovation. Haifule has been deeply involved in the field of furniture and environmental lighting for many years, with a total investment of over 100000 hours in research and development. The system's unique driver supports up to 5 amperes of current to meet the requirements of longer and farther light strip applications.
Simultaneously supports 6-way ordinary white light fixture allocation or connect mesh intelligent Bluetooth allocation. Suitable for white light, adjustable color temperature or RGB color lighting fixtures. All light sources use high-quality LED light sources manufactured by Samsung. The Mesh system can control various lighting combinations through mobile terminals, wireless switches, or remote controls.
After adopting the Loox5 lighting system, your home environment and furniture lighting can be easily configured into kitchen cooking mode, dining mode, rest mode, and work mode. At the same time, you can also achieve atmospheres such as daydreaming, romance, relaxation, or quietness by adjusting the color temperature and color of the lighting fixtures. You can also easily adjust the lighting fixtures to achieve the best lighting effect based on the different absorption and reflection of light sources by the decorative panel materials used in your home environment.
Loox5 Scenario Application
Light has no limitations on room and furniture design. The Loox5 lighting system can be used in various living environments:
△ Enhancing the atmosphere through lighting in the bathroom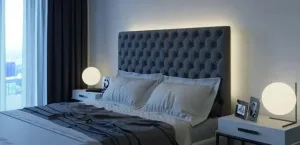 △ Hotel rooms use lighting atmosphere to increase space comfort
△ Wardrobe uses LED to increase lighting
△Install embedded lighting in the wall cabinet, greatly enhancing the cabinet style
△ The light is hidden behind the TV cabinet for auxiliary lighting
△ Lighting creates a warm atmosphere in the living room
△The lighting of the boutique focuses on the surroundings of the goods, creating a comfortable experience atmosphere for shoppers
Loox5 Light Control
Intelligent lighting intelligent control, whether it is RGB, adjustable temperature or monochrome light, the Haifu Le Connect Mesh 6-way distributor can be controlled.
Lighting control and configuration lighting – Using the Loox5 system is as simple as this: all Loox5 lights installed in the house are "set" in the Hfele Connect Mesh application, and can be integrated into the application interface in just a few steps. After setting in the application, the lights can be activated and dimmed separately, the light color can be changed, and different lighting scenes can be created and saved.
The operation can be completely selected according to the requirements: through the application app, through the remote control, or using wall mounted buttons.
What if so many accessories won't be used?
Haifule provides thoughtful customer customized configuration support and can configure lighting systems according to your needs.
Different system components can be connected to compact drives, making installation easier with plug and play and clear color markings.
Multiple identical or different drives can be used together to create a more powerful system. All components have undergone professional testing and certification to ensure reliable quality and extended service life.
In addition, if you need to customize the length of the light strip to avoid unnecessary waste, Haifule can also customize the length cutting and packaging for you at the factory. Haifule's efficient logistics system, which is spread throughout the country, can also ensure timely delivery, bringing convenience and stability to your production arrangements.
I hope that through the Haifu Le Loox5 lighting system, you can enter the wonderful future of digital home lighting.